Gamma Theta Upsilon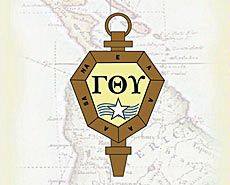 Gamma Theta Upsilon (GTU) is the international honor society in geography. Gamma Theta Upsilon was founded in 1928 and became a national organization in 1931. The Mu Upsilon Chapter of GTU (see brochure) is housed at Kennesaw State University. Members of GTU have met academic requirements and share a background and interest in geography. GTU chapter activities support geography knowledge and awareness. A lifetime membership fee to join GTU is $40 (one-time fee paid after your membership application has been approved by the chapter advisor).
GTU's Goals:
To further professional interest in Geography by affording a common organization for those interested in the field.
To strengthen student and professional training through academic experiences in addition to those of the classroom and laboratory.
To advance the status of Geography as a cultural and practical discipline for study and investigation.
To encourage student research of high quality, and to promote an outlet for publication.
To create and administer funds for furthering graduate study and/or research in the field of Geography.
To encourage members to apply geographic knowledge and skills in service to humankind.
Benefits of GTU Membership:
Benefits of GTU membership include:
Most chapters organize and host speakers, campus-wide programs, field trips, and social events. Chapter members participate in service functions.
Members can engage in numerous extra-curricular activities.
Membership provides a network that helps students become better acquainted with other geography students and faculty.
Members can improve their expertise in the field of geography by learning things not normally covered in the classroom.
Members are eligible to apply for a variety of Gamma Theta Upsilon scholarships.
Membership in an academic honor society is evidence of your dedication to and competency in your potential career field. Some employers give hiring preference or a higher starting salary to honor society members.
GTU Application Requirements:
To be eligible for GTU membership, members must:
*completed a minimum of 3 Geography or GIS courses
*completed at least 3 semesters of college course work
3.3 or higher overall GPA (or rank in top 35 percent of class)
3.3 or higher GPA in Geography/GIS courses
*3 Geography/GIS courses OR 3 semesters of college work must be completed at Kennesaw State University. Also, membership is open to all students who meet the above requirements; members do not have to be declared Geography or GIS majors as long as they meet the above criteria.
How do I apply to become a member of GTU?
If you meet the above eligibility requirements, fill out the online GTU Membership Application Form (qualtrics survey form link here) by the appropriate due date for the Fall or Spring semester. Membership application forms for Fall semester are due October 15 and for Spring semester are due March 1. Applications submitted after the due date will be reviewed for the next cycle. Contact Dr. Paul McDaniel with any questions about membership.
How do I purchase a GTU honor stole, cord, and/or pin for graduation?
GTU pins, stoles, and honor cords are available online to GTU members through the GTU online store.
I have questions about my membership/the society/regalia. Who do I contact?
Please reach out to Dr. Paul McDaniel, the GTU-Mu Upsilon Chapter Faculty Advisor, if you have any questions about GTU.
Welcome to our Chapter! Visit the Mu Upsilon GTU Chapter on Facebook at https://www.facebook.com/kennesawgtu/.
Visit the Gamma Theta Upsilon International Geographical Honor Society website at http://gammathetaupsilon.org/.