Courses
CHEM 1211, CHEM 1211L, CHEM 1212, CHEM 3601L, CHEM 1151 and CHEM 1152.
Course Coordination: CHEM 1151 (General-Organic-Biochemistry) and CHEM 1152.
CHEM 1151 Overview: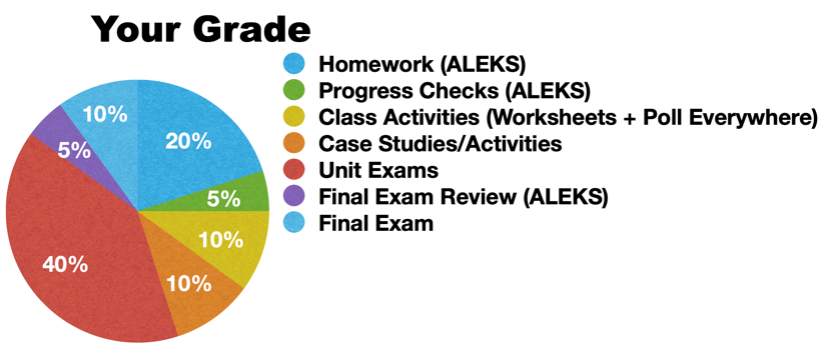 Reading Checks (RC#) are due on Monday at 8:00 am in ALEKS and Gradescope. All ALEKS Homework (HWK#) are due on Thursday night at 11:59 pm, and each student recieves a randomized question version. The case-studies to Gradescope and Progress Checks (PCs) are due on Sunday night by 11:59 pm of the corresponding week.
Unit 1:
Module 1: Chapter 1 (Matter and Measurements) [ch 01 Active Learning Power Point Smith 5th]
Chapter 1: Reading Check (RC1), Basic Level 1 (5 questions + 2 videos)
Chapter 1: Homework, (HWK1) Mastery (10 questions)
Class activities (Poll Everywhere and/or Worksheets for Completion)
Module 2: Chapter 2 (Atoms and the Periodic Table)
Chapter 2: Reading Check, Basic Level 1 (2 questions + 5 videos)
Chapter 2 Homework (part of HWK1), Mastery (13 questions)
Class activities (Poll Everywhere and/or Worksheets for Completion)
Group Project: Case Study 1 to Gradescope
Module 3: Chapter 3 (Ionic Compounds)
Chapter 3: Reading Check, Basic Level 1 (4 questions + 3 videos)
Chapter 3: Homework, Mastery (18 questions)
Class activities (Poll Everywhere and/or Worksheets for Completion)
Progress Check 1 (ALEKS, Quiz)
Module 4: Chapter 4 (Covalent Compounds)
Chapter 4: Reading Check, Basic Level 1 (2 questions + 5 videos)
Chapter 4: Homework, Mastery (17 questions)
Class activities (Poll Everywhere and/or Worksheets for Completion)
Unit Exam 1
Unit 2:
Module 5: Chapter 5 (Chemical Reactions)
Chapter 5: Reading Check, Basic Level 1 (4 questions + 3 videos)
Chapter 5: Homework, Mastery (23 questions)
Class activities (Poll Everywhere and/or Worksheets for Completion)
Group Project: Case Study 2 to Gradescope
Module 6: Chapter 6 (Energy Changes, Reaction Rates, and Equilibrium)
Chapter 6: Reading Check, Basic Level 1 (2 questions + 7 videos)
Chapter 6: Homework, Mastery (23 questions)
Class activities (Poll Everywhere and/or Worksheets for Completion)
Progress Check 2 (ALEKS, Quiz)
Module 7: Chapter (Gases, Liquids, and Solids)
Chapter 7: Reading Check, Basic Level 1 (5 questions + 5 videos)
Chapter 7: Homework, Mastery (25 questions)
Class activities (Poll Everywhere and/or Worksheets for Completion)
Unit Exam 2
Unit 3
Module 8: Chapter 8 (Solutions)
Chapter 8: Reading Check, Basic Level 1 (8 videos)
Chapter 8: Homework, Mastery (30 questions)
Class activities (Poll Everywhere and/or Worksheets for Completion)
Group Project: Case Study 3 (Activity) Gradescope
Module 9: Chapter 9 (Acids and Bases)
Chapter 9: Reading Check, Basic Level 1 (12 videos)
Chapter 9: Homework, Mastery (21 questions)
Class activities (Poll Everywhere and/or Worksheets for Completion)
Progress Check 3 (ALEKS, Quiz)
Unit Exam 3
Unit 4
Module 10, Chapter 10, Part A (Nuclear Chemistry)
Chapter 10: Reading Check, Basic Level 1 (12 videos)
Chapter 10: Homework, Mastery (21 questions)
Class activities (Poll Everywhere and/or Worksheets for Completion)
Group Project: Case Study 4 (Activity) Gradescope
Module 11, Chapter 11, Part A (Introduction to Organic Chemsitry and Functional Groups)
Chapter 11: Reading Check, Basic Level 1 (15 questions + 1 video)
Chapter 11: Homework, Mastery (25 questions)
Class activities (Poll Everywhere and/or Worksheets for Completion)
Group Project: Case Study 5 (Activity) Gradescope
Progress Check 4 (ALEKS, Quiz)
Unit Exam 4
ACS GOB Final Exam (Custom Edition)