Research
Current Research:
Area 1: Development of science and technology have had a profound impact on the environment. Environmental pollution includes air pollution, soil pollution, and water pollution. Among these soil and water pollution are primarily related to release of untreated wastewater into lakes and rivers. Several industries such as food and drug manufacturing, textile, paper, pigment, leather, and cosmetics extensively use organic dyes. Eventually, these dyes end up into the water body due to discharge. Most of such dyes and their metabolites are toxic and carcinogenic and tend to create water contamination and thereby endanger public health as well as pose harmful consequences upon the ecosystem.
Baruah Laboratory research focuses on the fabrication of nanostructured metal oxide on various solid substrates. These fabricated substrates further decorated with plasmonic metal nanoparticles to create binary composite materials. We make an effort to assess the photocatalytic degradation of water-soluble model pollutant dye molecules in the presence of the fabricated composite materials (photocatalyst) under UV and visible light.
Area 2: Baruah laboratory is also interested in detecting toxins or pollutants at sub-micromolar and sub-nanomolar concentrations. To achieve that we use Raman spectroscopy which is a vibrational technique that yields chemical signature of a molecule. However, it is a weak technique, and the signal can be enhanced significantly by regulating the placement of the Raman active molecule next to a nanoparticles surface. Such enhancement is known as surface-enhanced Raman scattering (SERS). Baruah group researchers design and fabricate gold and silver nanoparticles based immobilized SERS substrates (primarily, cotton fiber as support) and dispersed SERS substrates to detect toxins and contaminant.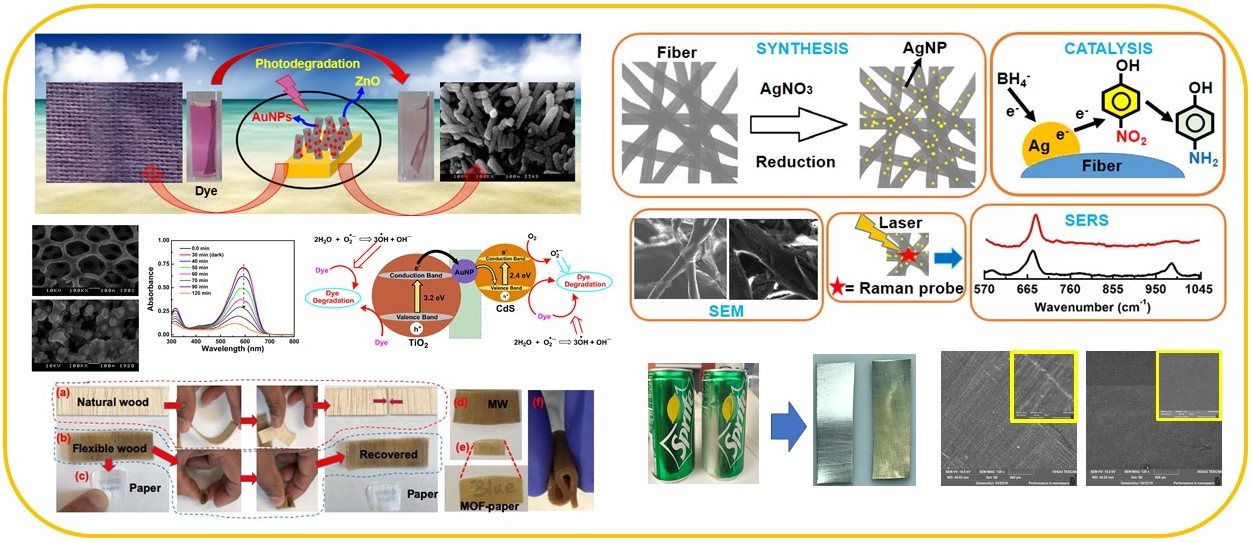 Area 3: After iron aluminum alloy is one of the most widely used metals with a substantial industrial and scientific interest due to its applicability and technological value in architectural, automotive, aerospace, shipbuilding, military hardware, household appliances, and beverage can fields. Metal has a natural tendency to react with atmospheric oxygen and go back to its stable oxide forms, and this phenomenon is termed as corrosion. A coating is a widely accepted remedy to this back to the original oxide form of metal and metal alloys. Baruah laboratory is interested in developing robust coating in order to protect corrosion in Al-alloy.
Area 4: This research aims to create modified wood material with multiple properties such as flexibility, optical transparency, flame retardancy, and electrically conductivity. In modern society, electronic devices are an indispensable part of every arena of our life. Sensors, energy storage devices, and flexible electronics require cheap, readily available materials and easy to fabricate. Traditionally plastics have been taking place in this category. However, it is harmful to the ecosystem and is not biodegradable. Both the research community and the industry search for an alternative that is cheaper, readily available, and easy to fabricate into electronic devices. Modified wood (MW) contains naturally occurring polymers and is readily biodegradable. Hence, MW would be the more desirable alternative. We modify natural wood (NW) to flexible wood by one step chemical treatment to then further modify to transparent paper via another chemical treatment and mechanical treatment. The transparent paper further modified with metal organic-framework (MOF) to create flame-retardant paper still maintaining optical transparency. Studies to develop electrically conducting material are in progress.
Undergraduate Students:
Kelsey Peacock
Elohor Okoko
Masters Student:
Former Undergraduates:
H. Jack Schwab
Alexandr Surin
Carl Craighead
Caleb Abolarin
Ritika Singh
Marisol Lora
Meshack Kiambuthi
James Law
Brittany Thompson
Kristen Wulkowicz
Christina Megedyuk
Toni-Ann Miller
Cody Padgett
Sara Jalali
Bankole Akerele
John Eliot
Theresa Kusumadjaja
Caitlen Attaway
Brianna West
Garrison Kohler
Christopher Kelley
Matthew Geiger
Kristi Moncja
Connie Wei
Michael Woods
David Agyeman
Anna Akins
Nathan Giles
Jeremiah Bethea
Former MS students:
Daniel A. Corella (Development Chemist at Birla Carbon)
William A. Mendez Gil
Latanya Downer (Quality Control Analyst - Mikart)