Trey Wright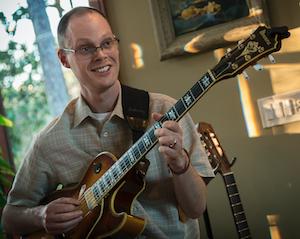 Trey Wright is a jazz guitarist, composer, and recording artist based in Roswell, Ga. Trey spent his formative years as a musician in Athens performing with the jazz quartet Squat; a six-time winner of Best Jazz Band at the Flagpole Athens Music Awards and a featured artist at the Atlanta Jazz Festival, Bel Chere, the Twilight Athens Jazz Festival, the Cherry Blossom Festival, Harvest Midtown, and Athfest. Several of Trey's compositions with the group have received international airplay and have been featured on Sirius radio and NPR's All Things Considered.
Trey also performs freelance in the Athens and Atlanta area and has performed with Yellowjackets bassist Jimmy Haslip, John Patitucci, Joe Lovano, Corey Christiansen and Darmon Meader of the New York Voices. Trey has performed at the Montreux Jazz Festival; Jazz A Vienne; the International Festival of University Theatre of Casablanca Morocco; the World Sacred Music Festival in Bangalore, India; and in Montepulciano, Italy. As a solo guitarist and with his trio, Trey has been a featured performer at the Athens Music and Arts Festival, the Athens Jazz Festival, the Lake Oconee Jazz Festival, and the Atlanta Jazz Festival. In early 2008, Trey began playing with the Georgia Symphony Jazz Orchestra.
In December of 2002, Trey completed a Master of Music degree in Jazz Studies at Georgia State University and he currently teaches Applied Jazz Guitar, Jazz Theory and Composition, Jazz Guitar Ensemble, Jazz History, Jazz Improvisation and The History of Rock at Kennesaw State University. Trey has also taught at LaGrange College, Gainesville College, the Atlanta Institute of Music and Media and was a Jazz Artist in Residence at the University of Georgia. From 2011-2016 Trey wrote a column on Jazz Harmony for the Guitar for the quarterly print magazine Just Jazz Guitar.
In 2006, Trey released his first CD Where I'm Calling From, receiving rave reviews and airplay throughout the United States, New Zealand, England, Australia, Germany, Italy, Canada, Luxembourg, Scotland, and the Netherlands. The Trey Wright Trio released Thinking Out Loud in the summer of 2009 on Blue Canoe Records. In 2010, The CD was included in the first round Grammy Nominations for Best Jazz Instrumental Album. In the Fall of 2012, the Trey Wright Trio's version of Thom Yorke's "Analyze" was included on the compilation Head Radio Retransmissions: A Tribute to Radiohead on the German label ESC records. Trey's long awaited collaboration with Grammy winning saxophonist Mace Hibbard The Hibbard/Wright Project was released to rave reviews in May 2013 and Trey's most recent release Songs From Oak Avenue was released on Blue Canoe Records in Spring 2015. In the Summer of 2016, Trey's album Thinking Out Loud was included as part of Delta Airlines In Flight Entertainment on domestic and international routes.
To listen to Trey's music and for more information please visit: www.treywright.com