Judy Cole
Artist-in-Residence in Collaborative Piano, School of Music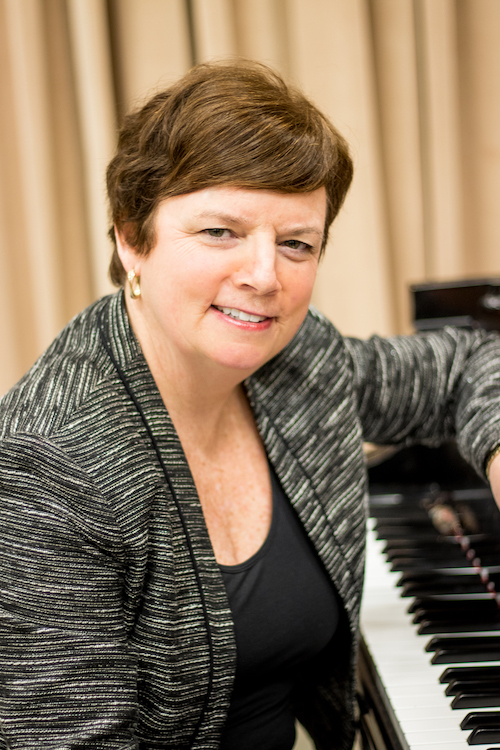 Judy Cole is considered by local area colleagues to be one of the most versatile pianists in the Atlanta commercial music scene. She has performed for corporate presidents, university presidents, and even a former President of the United States, in venues ranging from concert halls to nightclubs and recording studios, as a soloist and as a collaborative pianist.
When Professor Cole first arrived at Kennesaw State University, she taught classes in music theory and history, coached Opera and Musical Theatre, and accompanied student and faculty recitals. From 2008 to 2016 she played, coached and musically directed all the Musical Theatre productions for the Theatre and Performance Studies division of COTA in addition to her duties for the School of Music. 2016-19 she was the Coordinator of Collaborative Piano for the School of Music, and now teaches Accompanying, private studio lessons, Advanced Class Piano, Sight Singing for Musical Theatre and coaches/plays for the Opera Theatre classes and productions. Judy also enjoys a demanding schedule of recital performances with faculty and students. In past years, she has been a featured soloist with the KSU Wind Ensemble and the Georgia Youth Symphony Orchestra .
Mrs. Cole has worked professionally and made a successful career over the last 35 years as a free-lance pianist and commercial musician playing in a variety of settings. To quote J. Lynn Thompson, founding Artistic Director of the Atlanta Lyric Opera, "Judy Cole is one of those rare artists who can move effortlessly between styles ranging from opera to Broadway, jazz to rock and roll. She is a conductor's and singer's dream of a pianist." Mrs. Cole has been featured on numerous recordings both as an accompanist and as a soloist, including her own CD "By Request," and has several solo recordings in process at this time. As often as scheduling allows, she plays in the pit orchestra for Broadway touring shows playing at the Fox Theatre and major events at the Cobb Energy Performing Arts Center.
In 2018-19 Judy was the Music Director for City Springs Theatre Company, Atlanta's newest professional theatre producing Musical Theatre shows. City Springs Theatre Company is the resident theatre company for the spectacular new Sandy Springs Performing Arts Center; the inaugural season opened with "42nd Street" in September, followed by "Elf", "South Pacific", "Billy Elliot" and "Hairspray." She continues to do special projects and events for the theatre company and occasionally plays in the pit orchestra. Additionally, Judy has been involved with the Georgia Musical Theatre Awards, better known as "The Shulers" (because of the involvement of Shuler Hensley), as a performer, show judge and performance coach for more than ten years.
She earned her Bachelor of Music degree in Piano Performance from the University of North Carolina at Chapel Hill, studying with Marvin Blickenstaff. After taking a year off from school, during which she toured the United States playing in a show band, she was invited to attend the University of Cincinnati College-Conservatory of Music, where she earned her Master of Music degree in Accompanying, with a concentration in Musical Theatre and Chamber Music. Her teachers included Olga Radosavlovich at the Cleveland Institute of Music, and Dr. Robert Evans, Babbette Effron and Dr. Kelly Hale at CCM.
In addition to local performances, Mrs. Cole travels routinely to accompany classical, instrumental, vocal, and religious Jewish music concerts throughout the US where she is known for her ability to arrive, rehearse and perform demanding concert material all within a span of several hours. She has collaborated with many of the top Cantors and musicians in the Jewish music world, including Hazzan Naftali Herstik in Jerusalem, Cantor Asher Hainovitz, and composers Simon Sargon, Bonia Shur, Michael Isaacson, and Debbie Friedman. Judy is a member of the Guild of Temple Musicians (the national organization of Jewish musicians and composers), the American Federation of Musicians, and the Musical Theatre Educators Alliance. She is the staff accompanist at The Temple in Atlanta and is still an active commercial musician.
Judy is a mom to daughters Katy and Rebekah, their husbands Mike and Richard, an ecstatic grandmother to Charlotte, Jack, Vivian and John Fraser, and is happily married to Cantor Herb Cole.
See more at JudyColePiano.com