Tyrone Jackson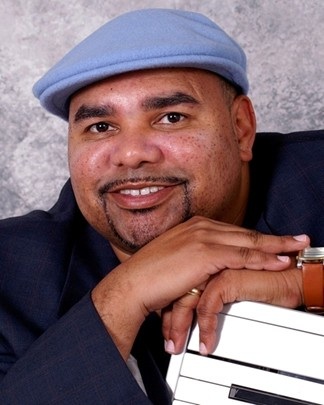 The name Tyrone Jackson is the quintessential jazz piano player. His boundless creativity coupled with harmonic mastery, utilizes the piano as a blank canvas. Jackson is nationally recognized and has traveled the world as a solo artist and sideman. Born in the New Orleans cradle of jazz, Jackson embodies the spirit of the Crescent City. The blends of jazz, funk and afro-carribean melodies are ever present in his work. But of course, musicians are never solely influenced by themselves. Jackson's teachers are a virtual Who's Who of great jazz piano players ranging from Ellis Marsalis, Mary Ann Bulla to gospel/classical legend Moses Hogan.

As a composer, Jackson has composed original music for Pulitizer Prize winning author Natasha Tretheway's book of poems "Native Guard" turned theatrical play, Pearl Clege's play, "Tell Me My Dream", "Ethel" by Terri Burrell, "Nick's Flamingo Grill" and this past year's Alliance Theater production of "A Very Terri Christmas".
Jackson has recorded 4 Albums—"Dedicated", "Another Voyage", "Melody In Nede", and new release "From The Mind Of." Additionally, Jackson's work in "Native Guard" was premiered in Los Angeles, CA at the famous Sage Hills Academy from January 9-15, 2017. He has composed music for two documentaries and a movie entitled "Canal Street". 
In addition to his composition skills, the jazz wonder is most known for his compelling solos. Jackson's improvisational skills allow him to become a part of the song whether he softly highlights ballads or tears through fast-paced standards.
Currently Tyrone Jackson is a professor at Kennesaw State University where he is Lecturer of Jazz Piano and teaches a myriad of classes including: Aural Skills III & IV, Jazz Improvisation I, II & III, Jazz Combo, Jazz Theory, Applied Jazz Piano, Group Jazz Piano and History of the Blues. Jackson is the coordinator for the 1st annual "Jazz Fest At The Nest" jazz festival on May 7, 2022 Jackson is also a clinician and teacher for the Rialto Arts Jazz program for middle school and is a clinician for Clayton County Arts Association.
Jackson has performed with Steve Turre, Larry Carlton, Carmen Bradford, Earl Klugh, Melba Moore, Wynton Marsalis, Branford Marsalis, Wycliffe Gordon, Vincent Gardner, Joe Lovano, Dave Douglas, Wes Anderson, Greg Dawson, Jennifer Holliday, Karen Briggs, Clay Jenkins, Russell Gunn, David Sanchez, Damaris Carbough, Russell Malone, Marcus Miller along with opening for Esperanza Spaulding, Gerald Albright, Spyro Gyra and the Crusaders, and Chaka Kahn. He also toured Italy and Austria with the UNO Jazz Band; toured Brazil with Michael Ward; Toured Thule,Greenland and performed with FutureMan (Roy Wooton)

Clinician Experience
Solon High School, Iowa State Jazz Vocal Composition
• Berry College
• Georgia State University, Realto Jazz for Kids
• Columbus State University, Improvisation Master Class
• Houston-Tillotson College
• Clayton County Jazz Summer Camp
• Sound Learning Musician/Clinician
• J.C. Young Middle School • Taylor Rd. Middle School • Sequoyah Middle School • Drew Charter School • Campbell Middle School
• Callenwolde Arts Center
• Kennesaw State University, Jazz Master Class • Emory University Museum
• GYSO (Georgia Youth Symphony Orchestra)
Affiliations/Memberships
• AFM • BMI
• GMEA • JEN
Accomplishments
• "Creating Under Pressure: Effects of Divided Attention On the Improvised Output of Skilled Jazz Pianist", Assistant Researcher/Recruiter
• Music Director for Carmen Bradford
• Pianist/Music Director for "Ethel" Terry Burrell, Alliance Theater (extended twice)
• Composer for "Tell Me My Dream" Pearl Clege, Alliance Theater
Composer for "Nick's Flamingo Grill" Philip Depoy, Alliance Theater
• Composer/Pianist for Pulitzer Prize Winning Poet Natasha Trethewey's "Native Guard" Alliance Theater
• Arranger/MD/Pianist for "Another Terry Christmas" Susan Booth, Alliance Theater
• Hot Shoe Records Recording Artist 2010
• JAZZ IZ Featured Artist
• Coordinator of the "Night and Day" Summer Jazz Program