Research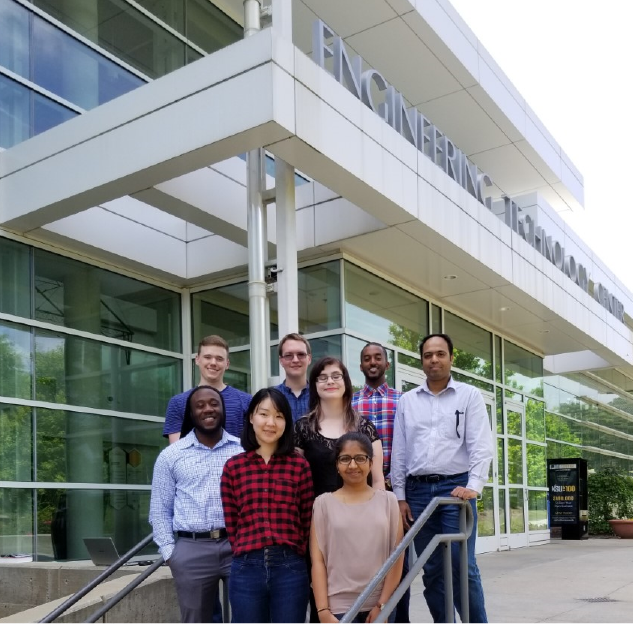 Research group - Spring 2018.
Top row (from left to right): Sam McWhorter, Erik Riefe, Abel Henok, Dr. Das; bottom row (from left to right): Shakwan Chisholm, Xueqi Ji, Lakota Griffis, and Shirali Patel.
---
Current Research Group Members:
Alfredo Beltran, Graduate Research Assistant, Electrical Engineering

Alfredo Beltran graduated from California State Polytechnic University, Pomona in 2010 with a Bachelors of Science in Electrical Engineering. He then worked in Electrical Nuclear Power generation industry for 7 years. Currently, he works in the electrical power delivery sector involved in both design engineering and power analysis. He is concurrently pursuing M.S. degree in Applied Engineering - Electrical at KSU. His research work and Masters Project involves Maximum Power Point Tracking (MPPT) of Photovoltaic Arrays and PV Systems by developing improved Particle Swarm Optimization (PSO) technique. He has co-authored three IEEE Conference Proceedings papers (IEEE PVSC and IEEE SoutheastCon) in the past one year and is currently working on a journal publication.
Sumedha Inamdar, Graduate Research Assistant, Computer Science

Sumedha Inamdar is a Computer Science major pursuing her MS in CS and is involved in a collaborative research project which involved Machine Learning and Deep Learning for improved Maximum Power Point Tracking (MPPT) of Solar Photovoltaic Systems. Her analytical models are applicable to various engineering applications.
Mervin Johns, Undergraduate Researcher, Computer Engineering

Mervin John is a Junior at Kennesaw State University majoring in Computer Engineering. He plans on switching to Electrical Engineering soon. Researching automated laboratory measurement systems and research instrumentation systems is a new interest of his and he's excited to be apart of the team!
Chase Hughes, Undergraduate Researcher, Electrical Engineering

Chase Hughes

Chase Hughes
John Giles, Undergraduate Researcher, Electrical Engineering

John Giles

John Giles