McMurry Lab
In the McMurry Lab, we pride ourselves not only on the awesome experiments we do and the exciting discoveries we make, but also on the quality of training, mentoring and peer teaching that we do. McMurry minions develop foundational biochemical, cell biology and microbiology skills and get cutting edge training in intermolecular interaction analysis, confocal microscopy and tissue culture. McMurry Lab alumni are engaged in professions from medicine to basic research to industry. We're very proud of our record -- see below to see where our alumni have gone and what they are doing today. Science is fun and we aim to keep it that way, but we are serious about it and getting students to where they want to go in life.
We are always looking for talented, motivated and ambitious students who want a serious research experience. As far as I know, I'm the only professor in the country crazy enough to turn undergrads loose on SPR and BLI biosensors. Interested students are encouraged to get in touch with me.

Current:
Jonathan McMurry, PI and Spirit Guide
Staff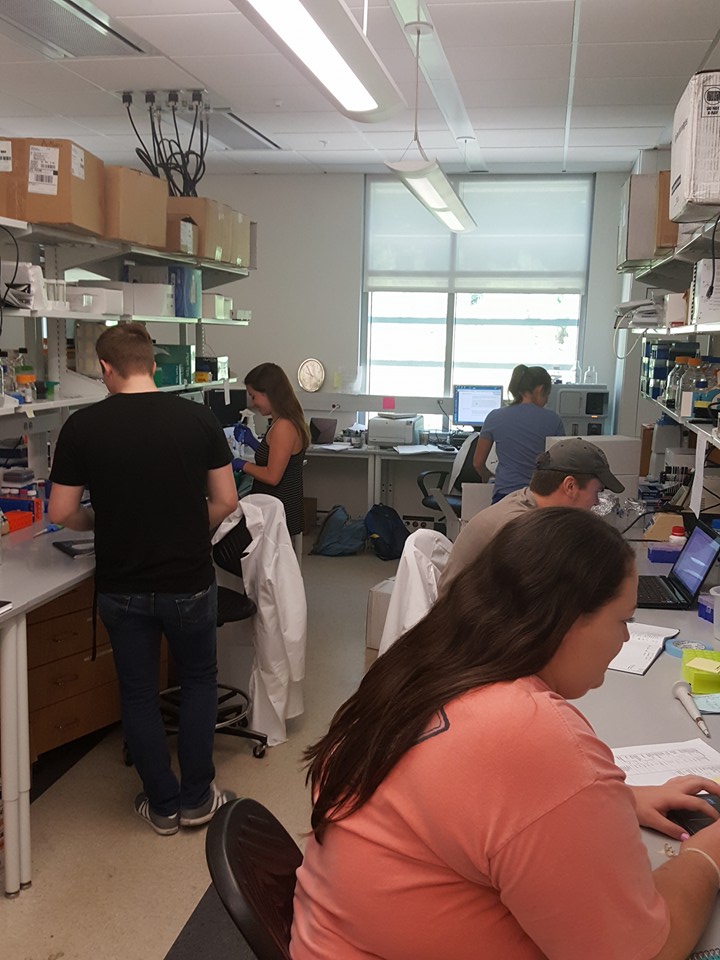 Dr. Daniel Morris, Research Associate Professor
Stephanie Hill, Research Associate
Lydia Wade, Research Associate
Undergraduates
They all graduated!
Alumni (aka The Pantheon of the Graduated)
Staff
Dr. Melissa Bentley, Ph.D., Research Associate (UAB Pathobiology & Molecular Medicine Ph.D. Program;Postdoc in the Caspary Lab at Emory University School of Medicine Department of Human Genetics)
Allison Healey, Research Associate (Miss. St. Biomedical Engineering M.S. Program)
Dr. Katy Helms, M.D., Research Associate (Mercer University SoM; Neurology Residency, Wake Forest School of Medicine)
Dr. Takanori Hirano, Ph.D., Research Assistant Professor (Research Institute for Microbial Diseases, Osaka University, Japan)
Master of Science
Krista Barbour, MSIB '20 (UGA ILS Ph.D. Program)(co-supervised with Dr. Melanie Griffin)
Kelsey Clearman, MSIB '18 (UAB Cell, Developmental and Integrative Biology Ph.D. Program)
R. Luke Dickson, MSIB '19 (The Ohio State University College of Veterinary Medicine D.V.M. Program)
Schuyler Gentry, MSIB '21 (Lab Projects Coordinator, Q2 Solutions)
Maria Mbugua, MSCB '19 (TBA)
Verra M., Ngwa, MSCB '16 (Vanderbilt University Cancer Biology Ph.D. Program)
Laura-Maria Oja, MSCB '20 (Research Associate, Carl Icahn School of Medicine at Mount Sinai)
Mareena Whisby-Pitts, MSIB '18 (Morehouse Biomedical Sciences Ph.D. Program)(co-supervised with Dr. Melanie Griffin)
Shaquanna Young, MSIB '18 (UVA Biomedical Sciences Ph.D. Program)
Bachelor of Science
David Axford, Biology '18 (Edward Via COM, Auburn University, US Navy Health Professions Scholar)
Carrie Lyn Barron, Biology, '21 (University of Maryland School of Medicine Molecular Medicine Ph.D. Program)
Will Clark, Biology, '21 (TBD)
Dr. Lauren (Beasley) Thomas, M.D., Biochemistry '14 (MCG M.D. Program; Residency at Pensacola Sacred Heart Hospital)
Juana Camila Bejarano, Biology, '18 (applying to med school)
Dr. Amber Caldara, Ph.D., Biology '15 (Emory Cancer Biology Ph.D. '19, HHMI Gilliam Fellow, Boston Consulting Group)
Hope Didier, Biology '21 (Wake Forest University School of Medicine Molecular Medicine & Translational Science Ph.D. Program)
Joycelynn Foster, Biochemistry '13 (Indiana U. M.M.A. Program)
Dr. Joshua Francis, Ph.D. Biochemistry '11 (Emory B.C.D.B. Ph. D., Senior Research Scientist, CDC)
Dr. Sydney Green, M.D. Biology '16 (Morehouse SoM M.D. Program, Global Health Residency, Eastern Virginia Medical School)
Elizabeth Hayes, Biology '15 (UGA Integrated Life Sciences Ph.D. Program)
Emma Henry, Biology, '21 (Virginia Tech Molecular & Cell Biology Ph.D Program)
Stephanie Hill, Biochemistry '13 (UAB Prep, MCG M.D. Program, Staff Scientist, New Echota Biotechnology)
Dr. Eric Hoffer, Ph.D., Biochemistry '11 (Emory B.C.D.B. Ph. D., Staff Scientist, Janssen)
Aidan Keelaghan, Biology, '21 (Research Specialist, Emory University School of Medicine)
Dr. Lewis Kraft, Ph.D., Biochemistry '09 (Ph.D., Vanderbilt Chemical & Physical Biology '15, Senior Scientist, Illumina)
Dr. Martha Kyriacou, M.D., Biochemistry, '07 (Universite Central del Caribe SoM, SUNY Downstate Residency, Family Medicine, Puerto Rico)
Dr. Maria Kyriacou, M.D., Biochemistry '07 (Mercer University SoM, Phoebe Putney Memorial Hospital Pediatrics Residency, Primary Care Sports Medicine Attending, Miami Orthopedics & Sports Institute)
Blake Langefels, Biochemistry, '21 (Research Associate, Johns Hopkins School of Medicine)
Ji Lee, Biology, '20 (TBD)
Shan Malek, Biology, '21 (TBD)
Rachel Martini, Biology '15 (UGA Integrated Life Sciences Ph.D. Program)
Kristi Moncja, Biology, '19 (KSU MSCB Program, Van Dyke Lab)
Hannah Moorman '18 (Mercer University SoM)
Viet Nguyen, Biochemistry '08 (Morehouse SoM, M.S., Mercer U. Pharm. D. Program)
Mikayla Oehring, Biology, '21 (TBD)
Comfort Orekoya, Biology, '19 (TBD)
Abeer Osman, Biology, '21 (TBD)
Jonathan Parker, Biochemistry, '09 (Specialist, CDC)
Emma Parks, Biology '18 (FIU Wertheim College of Medicine M.D. Program)
Dr. Katherine (Rhoades) Smith, M.D., Biochemistry '14 (Mercer University SoM M.D. Program, Emory School of Medicine Internal Medicine Residency)
Dr. Dino Romero, Biochemistry '13 (U. Penn. PREP Program, MCG M.D. Program, Memorial Healthcare General Surgery Residency)
Israel Scott, Biochemistry '10 (UGA Biochemistry Ph.D. Program)
Dr. T. Coddington Van Voorhees VII, Chemistry 1897 (East Alabama A&M Phlogistology Ph.D. Program, Assistant Professor of Phlogistology, KSU Chemistry & Biochemistry Dept.)
Dr. Jo Wilson, M.D., Biochemistry '10 (MCG M.D. '16, Johns Hopkins Pediatrics Residency)
Michael Woods, Biology '19 (University of Minnesota Pharmacology Ph.D. Program)