Dr. G in the News
2018 "No Bones About It" Kennesaw State University, Kennesaw, GA
"Students taking Gooding's course, The Human Skeleton, get a glimpse of the world that Gooding operates in as a forensic anthropologist and also gain hands-on experience with human osteology, the study of the human skeletal system."
2018 "GBI Prepares to Bury Hundreds of Unidentified Remains" CBS 46 Atlanta, GA
"...we're doing everything we possibly can technology wise, analysis wise, everything we can so that in the future maybe one of those advances in data collection can help identify them,"
2017 "GONE COLD: Meet Jane" 11Alive Atlanta, GA
"A woman, quickly dubbed Jane Doe, was found in Commerce, Ga., approximately one mile off Interstate 85 in February 2017. The Georgia Bureau of Investigation has been in possession of few clues to identify her, including some tattered clothing, silver jewelry and her bones."
2015 "Anatomy of Engagement" Kennesaw State University, Kennesaw, GA
"A team of seven faculty members and undergraduate students in the Department of Geography and Anthropology are carefully reconstructing and analyzing more than 1,200 bones of six wild pigs in the second phase of a collaborative project to help law enforcement officials in Rome and Augusta, Ga., learn more about the impact of bomb blasts and explosives."
2015 "Partnering to Make Georgians Safer" Georgia Trend Blog, Floyd Co., GA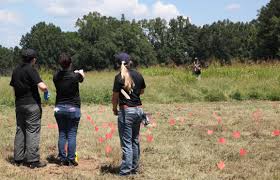 "Undergrads and faculty from the Geography and Anthropology Department at Kennesaw State University, Floyd County police officers – including Blaze, the bomb-sniffing dog – and medical personnel from Floyd Medical Center swarmed around a field, setting up explosive devices and "victims," – pigs, not humans – for a controlled explosion that would serve as a training exercise for all involved."