Summer 2019
Summer 2019 Study Abroad in Madrid, Spain
Update (August 12, 2019): Check out this article about the Summer 2019 Madrid Study Abroad Program!
Program Overview
Study abroad in Summer 2019 in Madrid, Spain, with the University System of Georgia's European Council Madrid Program. The program will run from June 27 to August 2, 2019.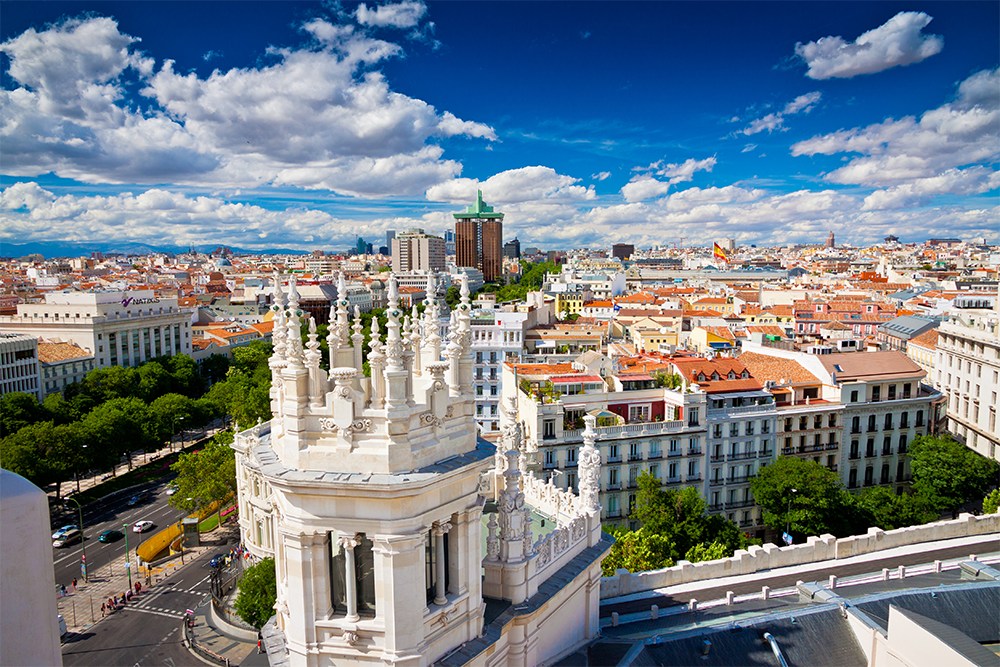 I'll be teaching two geography courses in this program:
GEOG 1101: Introduction to Human Geography (satisfies a social science general education requirement, and is also a prerequisite for many upper division geography courses).

We live in a dynamic world! This course provides students an opportunity to explore global geographic patterns of resources, population, culture, geopolitical, and economic systems and their local level impacts while being immersed in the culture and landscape of Spain. We will explore defining concepts in geography by focusing on the stories of real people, global trends and their local impacts, interregional linkages, contemporary topics that transcend borders, and how these patterns affect local communities. While in Spain we will witness how broader concepts occur on the Spanish landscape, allowing us to compare and contrast these patterns with our home culture.
GEOG 3300: Urban Geography. (can be taken as an upper division elective/related studies for many majors).

Urban Geography includes an analysis of the location and distribution of urban centers, urban land uses and the geographical aspects of general urban issues. Special emphasis will be on the economic, social, and political urban landscapes of cities and metropolitan regions. In particular, we will focus on examples in and around the Madrid metropolitan region, including its various neighborhoods, architecture, transit, and urban form, amid broader historical, social, cultural, political, and economic contexts.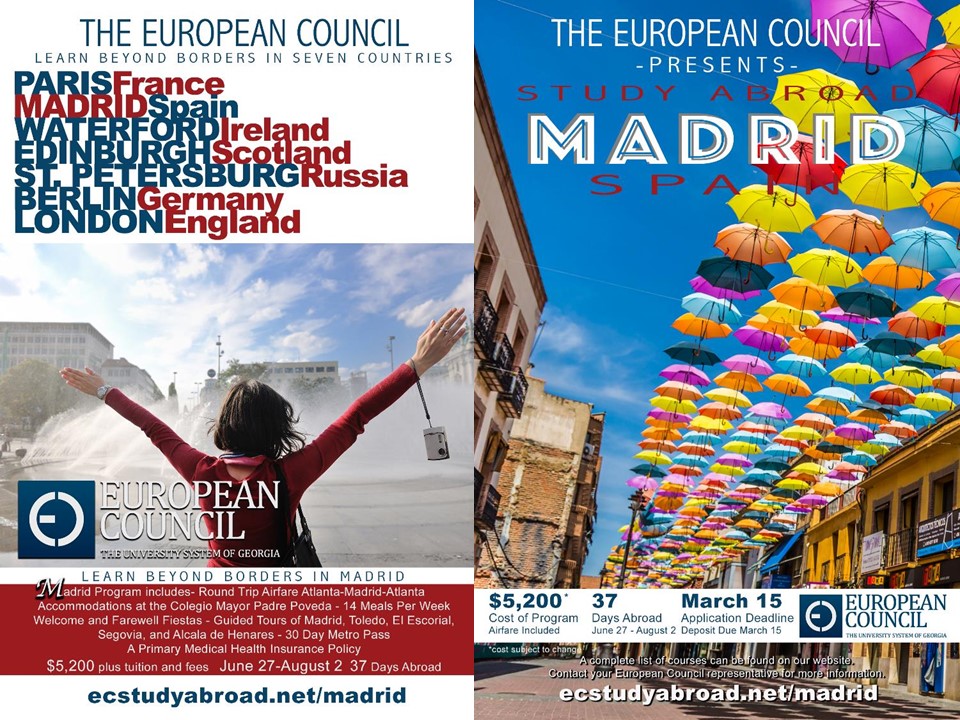 The program is conducted in English and each class meets for 2.5 hours in the morning and afternoon for two days each week. There will also be full-day field trips two days each week. Weekends (Friday to Sunday) are free for you to explore beyond Madrid and to travel on your own or in groups. Other courses will also be offered by other USG professors, so it's possible to mix and match two courses in two different disciplines:
Spanish Grammar & Composition
Spanish Conversation
Introduction to Human Geography
Urban Geography
Cultural Exploration of Life-Span Development
Interpersonal Relationships Across Cultures
World Civilization II
Early & Medieval Spain: Invasion to Inquisition
Art & Culture in Context: Spain & The Greco-Roman World
Artist Travel Journal in Madrid
Please feel free to contact me with any questions about the program or to express an interest in the program. Visit the official European Council Madrid program website for more information.
How to Apply?
Apply for this program via the KSU Education Abroad Office here.
Why go?
In addition to completing courses in an amazing location, this is your opportunity to visit many famous bucket list places in Spain. We will be visiting many famous sights in and around Madrid and the Madrid metropolitan region as part of our course field trips.
You'll also have weekends (Friday through Sunday) free to explore on your own! You might choose to remain in Madrid, explore some of the other nearby towns and countryside of central Spain, travel further afield to other regions of Spain, or visit another country (such as Portugal, France, Morocco, Italy, or elsewhere), and much, much more! Madrid is centrally located in Spain, and Spain's advanced high speed rail network makes it easy to quickly travel throughout the country for weekend trips.
More reasons to go?
Immerse yourself in a new culture
Learn through experience while earning 6-7 credit hours
Explore the actual geographic landscapes you're learning about in class
Experience first-hand masterpieces of art, architecture, and great historic venues
Build your resume
Make new friends
The opportunity to study abroad is a life-changing experience! Check out these testimonials from USG students who have participated in previous education abroad programs!
Where is Madrid?
Madrid, Spain's capital and largest city, is located near the center of Spain. With a metropolitan area population of around 6.7 million, it is one of the larger urban regions in the European Union. Madrid, located on the Meseta Central south of the Guadarrama Mountains, is also the highest capital city in the European Union, at an elevation of around 2,100 feet. Check out this Google Map (be sure to view the accompanying photos)! Madrid's central location in Spain, along with Spain's high speed rail network, makes it easy to take weekend trips to many other regions of Spain.
Where is the program based in Madrid? Check out this Google Map to find out!
More Information about Madrid and Spain
Videos about Madrid and Spain